Students from Graz took the overall title with a self-developed hybrid rocket
The Graz student team, known as the "Aerospace Team Graz," achieved a remarkable victory by winning the overall title with their self-developed hybrid rocket named "Halcyon" in the European Rocketry Challenge (EUROC), held in Constância, Portugal. This marked their third participation in the event this year.
EUROC has been hosted in Portugal since 2020 and serves as a competition for student teams engaged in the construction and development of flyable model rockets. It evaluates not only flight performance and innovation but also team collaboration and documentation. Out of the many applicants, 25 teams are chosen to participate in the challenge, drawing approximately 600 students from up to 14 different countries to determine the European rocket building champion.
The journey of developing the competition rocket was a year-long adventure filled with strenuous work hours, inspiring achievements, and the overcoming of setbacks. All these efforts culminated in a decisive moment: the launch of the rocket in Portugal, a brief event that decided their fate, either victory or defeat.
This year, the team participated in the hybrid rocket category with their rocket "Halcyon," aiming to reach an altitude of 3 km with precision. "Halcyon," a 3.6-meter-long rocket, weighed an impressive 32 kg when fully fuelled. The original launch date was scheduled for Thursday, October 12th, but due to extreme local heat, a safe launch couldn't be guaranteed.
Hybrid rocket propulsion components are highly temperature-sensitive, and even a sophisticated cooling system couldn't provide adequate relief. Consequently, a new launch attempt was scheduled for Friday, October 13th.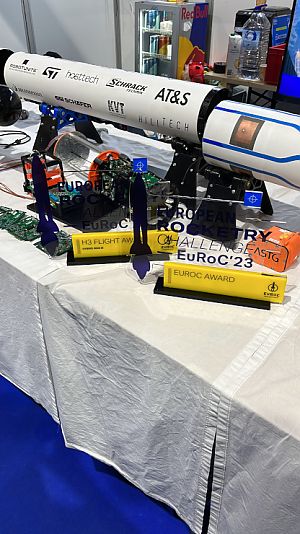 At 2:19 p.m. local time, "Halcyon" was successfully refuelled, and the launch sequence was initiated. In a split second, the rocket took off and disappeared from view. The ground station monitored the mission through live data transmission, and the team's tension turned into excitement as the rocket reached the desired altitude and deployed its parachutes for a safe landing.
In recognition of their outstanding performance, the team received two prestigious awards at the ceremony. They were honored with the H3 Flight Award, recognizing the best flight performance of a hybrid rocket at a 3 km altitude. Additionally, the Aerospace Team Graz was declared the overall winner, surpassing other strong universities such as ETH Zurich and Imperial College London, and received the EUROC Award.
Despite being only four years old, this young club has consistently exceeded its previous achievements year after year, now boasting nearly 90 members and numerous accolades. In 2021, the Aerospace Team Graz received the Technical Award, and in 2022, they brought the New Space and Team Award to Austria. The team is eagerly looking forward to future projects and has already announced its participation in the European Rocketry Challenge next year.