Austrian companies successful at Space Awards
Two Austrian companies succeeded this year - find out who and see the full list of all winners of the Galileo and Copernicus Masters.
On December 14th, the Space Awards brought together players and industry specialists from all over Europe, even the world, to celebrate the Winners of this years Copernicus Masters and Galileo Masters. The awards were held virtually and live streamed due to the ongoing pandemic.
Since the beginning of the competition in 2004, the Galileo Masters have not only massively benefitted successful contestants but also added value to Europe's space economy. The same can be said for the Copernicus Masters, which were first held in 2011. Both services play an essential role in providing public services and businesses with the right tools and insights to take their enterprise to the next level.
This year saw winners from all over the globe - challenge winners from all over Europe and Asia- and the first ever winner from the African continent - came up with brilliant solutions using data from both European satellite constellations.

Galileo Masters and Copernicus Masters Winners from Austria
Two companies from Austria triumphed this year as well.Thomas Strasser-Krauss and Stefan Schauer-Burkart of TOM Robotics GmbH from Graz won the DLR/BMVI Next Level Navigation Challenge with their sixth sense for Autonomous Mobile Robots. Fast, reliable, and trustworthy sharing of information in real time will enable robots to look beyond their line of sight by sharing what they are perceiving.This will lead to highly improved perceptual performance and enable flexible deployment of mobile robots in the most challenging scenarios. TOM Robotics provides solutions for the robots of tomorrow that will operate autonomously in these complex environments."Our jury fully agrees on the importance of the autonomous intelligent mobility application field – and the enormous push that the new GALILEO services will bring for it. With TOM Robotics, we found a perfect winner and valuable partner to profit from the expertise and domain know-how of both DLR and BMVI," says Hendrik Osenberg, Deputy Head of Department at the German Aerospace Center (DLR). (Source: Galileo Masters Results)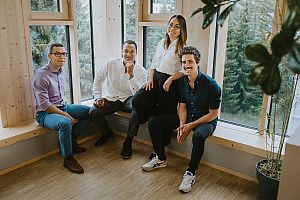 Beetle ForTech GmbH won not only both Regional Copernicus and Galileo Prizes, they also were one of the five companies selected as Galileo Incubation Winners. Matthias Sammer, Sebastian Vogler, Thi Phuong Anh Nguyen and Koimé-Simon Kouacou convinced the juries with their timber traceability solution that comprises two dimensions: monitoring and tracking. Its satellite based forest monitoring system uses Sentinel-1 and Sentinel-2 data to observe ongoing activities in forests and determine whether they are legal or not. Additionally, Beetle ForTech has also developed an interconnected, GNSS-based, in-situ log tracing system that helps track individual harvested trees throughout supply chains to verify their exact origin and prevent the trading of illegal timber. (Source: Copernicus Masters Results)
Full List of Winners
Click below to find a full list of the Winners of the Copernicus Masters and the Galileo Masters.