The Beetles conquer the forests!
An Austrian company has found a solution for seamless traceability of wood using space technology.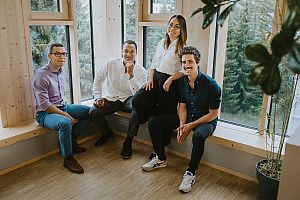 Wood is a renewable resource that offers ecological advantages over other materials, especially in construction. During growth, trees extract carbon dioxide from the atmosphere, which remains permanently bound as carbon in the wood. Wood products have a significantly lower carbon footprint compared to other building materials. However, this is only the case if the wood comes from well and sustainably managed as well as credibly certified forests. Unregulated deforestation for profit maximisation leads to large-scale forest loss, and as a result biodiversity is declining. It also contributes significantly to climate change. Illegal logging poses a threat to the timber industry as it lowers global timber prices by 7-16% and costs source countries up to $5 billion in lost annual revenues (The World Bank).
How does Beetle ForTech (BFT) combat climate change? Conservation of forest resources is critical for both continued prosperity and ecosystem stability. Globally, 15-30% of timber is harvested illegally. Illegally logged timber keeps coming back to the market as certified timber. Even the "Gorch Fock" - the sail training ship of the German Navy - is involved with timber from "most likely illegal" sources. The main problem with the current certification systems is that certifications are usually based on a predominantly document-based verification of the forest management plan and process chains. For logistical and financial reasons, on-site inspections and ecological assessments of logging take place only sporadically.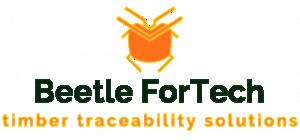 Timber production and trading companies are obliged by international regulations to prove the origin of their raw materials (EU Timber Trade Regulation). To date, there is no holistic solution that guarantees information security, origin and transparency. In practice, however, people still have problems with these requirements. "The timber industry with its complex supply chains is having a hard time implementing the new laws," explains Sebastian Vogler of Beetle ForTech. The team, whose co-founders come from different cultural backgrounds, has a common ideology: space technologies and innovation as a solution to illegal logging.
The Tulln-based start-up was founded in May 2021. Beetle ForTech is in incubation with accent, the high-tech incubator of Lower Austria. They are working on technologies that enable seamless traceability of timber to create a completely transparent supply chain. This is made possible by combining an efficient satellite-based forest monitoring system and innovative GNSS-based tracing system for logs. This enables them to offer more efficient, cost-effective and reliable verification options for sustainable timber certification.
Copernicus - Additional security layer for forest monitoring
Based on the Copernicus missions Sentinel-1 and -2, BFT's Earth Observation (EO) forest monitoring service can be deployed globally and on demand, regardless of forest area size.
Their forest monitoring project serves as a pathfinder for subsequent Copernicus and ESA activities in the field of forestry and sustainable resource management in Europe. The EO-EnForCe (Earth Observation to Enhance Forest Certification) project, funded by the Federal Ministry for Climate Protection through the FFG, enables advanced information services to be further developed in EO cloud processing environments. "We see a very large potential of EO, which will become indispensable in the forestry and timber industry in the future. Remote sensing technologies through satellites offer the possibility to monitor forest stands and their condition objectively, effectively, repeatedly and comparatively." - Vogler said. The team expects a significant economic impact on the forestry sector as their services strengthen the industry's competitiveness.