Minister Gewessler presents new Austrian space strategy
On the occasion of the 30th anniversary of Austria's only manned space mission "AustroMir", the Technical Museum Vienna in cooperation with the Federal Ministry for Climate Protection, Environment, Energy, Mobility, Innovation and Technology and the Austrian Research Promotion Agency FFG invited to a festive event on October 1, 2021. During the event, the new space strategy was presented.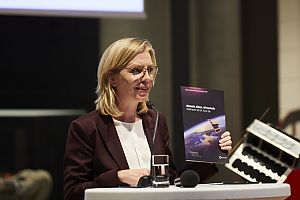 TMW Managing Directors Peter Aufreiter and Karin Skarek, Federal Minister Leonore Gewessler as well as Ambassadors Dmitrij Ljubinskij (Russian Federation) and Kairat Umarov (Republic of Kazakhstan) welcomed an illustrious round of scientists, representatives of the space scene and former participants of the mission. Together with Franz Viehböck, the first Austrian in space, they not only looked back on this unique event in Austrian space history, but also discussed current projects, innovative space research and international cooperation in space.
During the event, Gewessler presented the new national space strategy 2030+.
The anniversary '30 years Austromir' makes me look back proudly on Austria's achievements in the space sector. In order to position the Austrian space sector optimally in the coming decades and to create future-oriented jobs, the Ministry of Climate Protection has developed the Space Strategy 2030+ 'People, Climate, Economy: Space is for Everyone'. This has the vision of using satellites with technology 'made in Austria' to provide information about the state of the Earth and to support the green and digital transformation of our society and economy with data from space. In this way, it will also make a significant contribution to the implementation of Austria's goal of climate neutrality by 2040.
The Austrian Space Strategy 2030+ places a clear focus on sustainability, in particular on climate and environmental protection. Austria is to become an international pioneer in the sustainable use of outer space.
30 Years of the "AustroMir" Space Mission at the Vienna Museum of Technology