Haus der Natur Salzburg
In the Haus der Natur - Museum for Nature and Technology, the topics of astronomy and space travel are given high priority.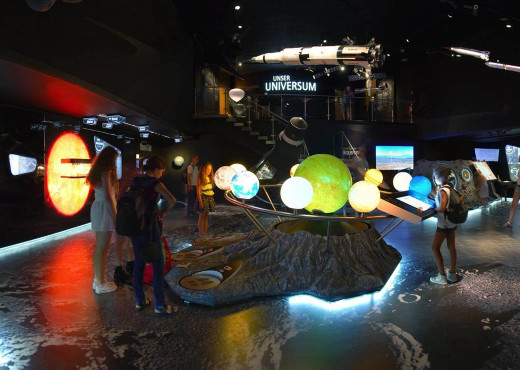 Astronomy and Space Travel in the "Haus der Natur", Salzburg
The exhibition "Our Universe" allows views of distant galaxies, tells of the formation of our solar system and accompanies the history of space travel. A large part of the exhibition is dedicated to the manned moon landing: a diorama shows Neil Armstrong's first step on the moon's surface making it almost seem as if you were there yourself.
With the opening of the VEGA-observatory Haus der Natur in 2018, the museum has further expanded its opportunities for astronomy outreach. At the observatory on the Haunsberg, the Haus der Natur astronomy working group uses two powerful ASA telescopes to carry out astrophotography, spectroscopy and small planet research. Its main objective is however to enable the general public to observe the stars. Every Monday and Wednesday, telescopic star tours take place during which visitors can take a look through the large telescope themselves. The observatory's lecture room offers a unique setting for astronomical lectures, seminars, scientific conferences and events.
Last but not least, educational programmes offer numerous opportunities for schools to immerse themselves in the topic of astronomy: On the one hand, guided tours and school programmes through the exhibition "Our Universe" can be booked at the museum, but there is also a constantly growing range of school programmes at the observatory.