Optimise your forklift fleet & reduce CO2 via GNSS tracking
Graz based Start-Up SLOC is developing an indoor and outdoor tracking system that is just as reliable and more economical for the customer.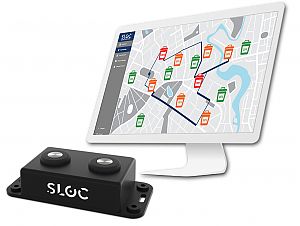 The revolutionary SLOC solution addresses a core problem of intralogistics: If I don't know where my forklift is, I can't optimise logistics processes. The only technology that can currently solve this problem reliably is a rotating laser. However, this is very cost-intensive and therefore the use case often does not pay off. SLOC is therefore developing an indoor and outdoor tracking system that is just as reliable and more economical for the customer. This is achieved through a combination of intelligent sensor technology, optical and satellite-based positioning and an already patented "Smart Wheel", which can generate energy via the wheel rotations of the forklift - thus making the use of a battery, which must be changed, superfluous. This makes it possible to optimise routes for larger forklift fleets and thus significantly increase the efficiency of the vehicles and reduce CO2 emissions. Furthermore, assistance systems such as collision warning can be implemented, which among other things increase operational safety.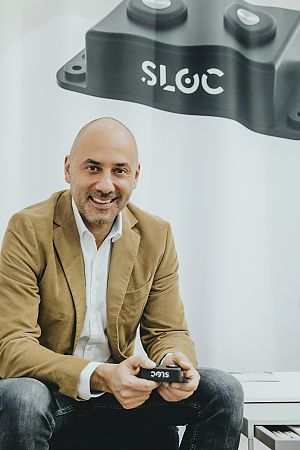 After studying telematics at Graz University of Technology, SLOC founder Alec Essati already had the opportunity to set up several start-ups in the logistics environment and to work intensively on the topics of tracking and route optimisation, for example for forklift fleets. Since the topic of sensor technology never let go of him, he founded SLOC in 2017. Originally, SLOC was focused on the eponymous "Smart Load Carrier", but the possible applications of the devices have developed beyond the core idea of the intelligent container. The devices are based on a universally applicable basic technology, which means that a wide variety of use cases and industries can be served. For example, SLOC has developed an innovative fill level sensor for waste containers together with its reference customer Saubermacher. In addition to Germany's largest waste management company, Remondis, and the world's largest waste management company, Veolia, this sensor has also convinced a large number of municipalities.
With on-board algorithms (edge computing), the data from the installed sensors is processed directly into information and then made available to the customer for process optimisation and automation. SLOC therefore works according to the business model "Information as a Service".
Furthermore, together with an Austrian research institute, SLOC develops a highly innovative odour sensor suitable for mass production. The goal is to miniaturise this sensor, which functions on a chemical basis, to nano-SIM size and apply it in various industries and use cases.
SLOC currently mainly serves the DACH region (Germany, Austria, Switzerland) and is planning to expand internationally with a focus on the United States. With currently 14 employees in Graz, SLOC was able to significantly increase its revenues during the crisis in 2020. Beyond that, the start-up acquired renowned customers and partners such as Magenta, Bosch and Lufthansa Industry Solutions.