Technology from Austria for European Vega rocket
In 2026, the new small European rocket Vega-E is to be launched into space.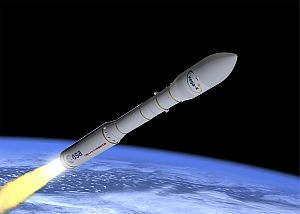 Austria's largest space company RUAG Space Austria is supplying technology for the upper stage of the rocket, which will be more environmentally friendly and less expensive.
The new small European rocket Vega-E is currently being developed by the Italian rocket builder Avio and is scheduled to fly into space for the first time in 2026. Austria is also contributing technology to this launch vehicle. "We are supplying red-white-red technology for the upper stage of the rocket," says Manfred Sust, Managing Director of RUAG Space Austria, Austria's largest space company. RUAG Space will supply the joint mechanism for the thrust vector control of the rocket's upper stage - developed and built at the company's headquarters in Vienna. The joint transmits the propulsive force to the rocket upper stage and simultaneously allows the thruster to deflect in order to control the flight path. Delivery of the first development models will take place in 2022 and 2023.
Rocket with "green" propellants
The Vega-E rocket will use a new generation of "green" propellants. At the heart of Vega-E's development is the new M10 cryogenic engine for the third stage, powered by liquid oxygen and methane, which should help improve the launch vehicle's environmental performance. Liquid oxygen is produced from oxygen contained in the air using the so-called Linde process.
More flexible and cost-effective
Vega-E is specifically designed to carry small satellites, such as small science satellites or smaller Earth observation satellites to monitor the environment and climate. "Vega-E will enable the Vega programme to further increase performance, market potential and competitiveness by significantly increasing payload capacity and mission flexibility, resulting in remarkably lower mission costs," says Avio CEO Giulio Ranzo. The rocket will be able to deliver multiple satellites to different orbits during a single mission.
Space mechanisms from Vienna in demand worldwide
"Our mechanisms are in demand worldwide," Manfred Sust emphasises. RUAG Space supplies many customers with mechanisms for the precise alignment of satellite engines powered by solar energy, for example for the EUTELSAT Konnect telecom satellite. Vienna mechanisms are also widely used in scientific missions: On the world's largest space telescope James Webb, which has been in space since December, a high-precision mechanism is used on the telescope's "super eye". And in September 2022, the European-Russian Mars mission "ExoMars" will launch into space - the camera mast of the Mars robot was developed and built in Vienna.