Space Minister Gewessler visited Viennese space supplier in Meidling
Climate Protection Minister Leonore Gewessler visited Austria's largest space technology company Beyond Gravity Austria (formerly RUAG Space Austria) on Thursday, 14 April. At the Meidling site, key technology is developed and produced for environmental and climate missions, among other things.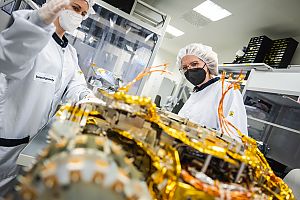 Satellites are the basis for a multitude of services that have become an indispensable part of our everyday lives. These include television, navigation, weather forecasting and communication links even in sparsely populated areas of the earth or in crisis regions. Satellite data are of particular importance for monitoring climate changes and responding to natural disasters. The Viennese space technology company Beyond Gravity Austria, formerly RUAG Space Austria, is involved in all European space satellite programmes of ESA, EU and EUMETSAT with significant contributions and is a sought-after supplier for satellite manufacturers in the USA and Asia.
Key technologies for European and international environmental satellites
Climate Protection Minister Leonore Gewessler was given an on-site insight into the Meidling development and production facilities. "The climate crisis is the great challenge of our time. In order to be able to take effective measures against it, we need valuable climate data from space. Austria contributes decisively to the functioning of European Earth observation satellites with important key technologies," said Gewessler. For example, a European satellite that studies how the sea levels of the oceans are rising will provide even more precise data thanks to Beyond Gravity Austria's accurate positioning devices. "With our national space programme, we are making a very significant contribution to Austrian companies like Beyond Gravity Austria developing their products technologically and thus being successful on the European and international markets. From 2002 until today, a total of 48 projects have already been funded by Beyond Gravity Austria from the national space programme and more will follow in order to make receivers and thermal insulation 'made in Austria' even more innovative and thus more competitive," says Gewessler.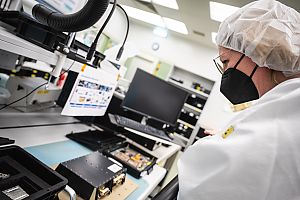 FFG: "World-class research makes an impact".
"Space activities are a strongly growing economic factor. After all, modern space technologies are indispensable for many services. Beyond Gravity Austria conducts world-class research and development. This is one of the reasons why the high-tech company is a leading provider of technologies and products for the space industry. These are now essential components of European satellites and are also in demand worldwide. It is fascinating what is possible here in Vienna-Meidling," emphasises Klaus Pseiner, Managing Director of the Austrian Research Promotion Agency FFG, whose Aerospace Agency is the docking station to the international space scene. On behalf of the BMK, the FFG promotes competitive Austrian space expertise in science and industry and, together with the BMK, represents Austria's interests in the European Space Agency (ESA), the EU, EUMETSAT and the UN. Austria has been a member of the European Space Agency ESA since 1987. In November 2022, representatives of all ESA member states will meet again to determine the ESA budget for the coming years.
Satellite navigation receivers, mechanisms and thermal protection
In Austria, Beyond Gravity Austria develops and produces a wide range of products for satellites and launch vehicles. In Vienna, for example, navigation receivers are used to determine the position of a satellite in space to an accuracy of a few centimetres, and high-precision mechanisms for the alignment of electric satellite thrusters (used, for example, in the European-Japanese Mercury probe BepiColombo). In Berndorf, Lower Austria, the company manufactures thermal protection for satellites (including most European environmental satellites) and launch vehicles such as the new European Ariane 6. Thermal insulation protects satellites and their instruments from the extreme temperatures in space of typically +/- 200 degrees Celsius.
Beyond Gravity Austria is Austria's largest space supplier
Beyond Gravity Austria (formerly RUAG Space Austria), based in Vienna-Meidling, is Austria's largest space technology company, with a turnover of around 46 million euros (2021) and around 230 employees. The high-tech company equips satellites and launch vehicles worldwide with electronics, mechanics and thermal insulation and has an export quota of around 100 per cent. The company is the European market leader in navigation receivers and thermal insulation for satellites. Most of ESA's satellites and space probes are equipped with thermal protection envelopes from Beyond Gravity Austria. As a spin-off of the space activities, the company also produces thermal insulation for applications on Earth, for example in medical technology (magnetic resonance imaging).
About Beyond Gravity: 1600 employees at 12 locations
Beyond Gravity, headquartered in Zurich, Switzerland, combines decades of experience and proven quality with agility, speed and innovation. Around 1600 employees at 12 locations in six countries (Switzerland, Sweden, Austria, Germany, USA and Finland) develop and manufacture products for satellites and launch vehicles. Beyond Gravity is the preferred supplier of structures for all types of launch vehicles and a leader in selected satellite products, especially for satellite constellations in the New Space market. In 2021, the company generated sales of approximately CHF 319 million. More information at: www.beyondgravity.com
Benefits of space travel in everyday life
Climate research: Satellites in space provide precise data for climate research
Energy transition: Satellites provide data for optimal locations of wind power plants
Combating environmental pollution: Satellite images help determine the extent of oil spills on the high seas
Fighting natural disasters: Satellite data warn of approaching hurricanes
Navigation: GPS navigation systems based on satellite technology bring vehicles safely to their destination
Satellite television: Live broadcast of the World Cup using satellite technology