Space Tech from Austria for Blue Origin
A big order and success for family business TEST-FUCHS from the Waldviertel region in Lower Austria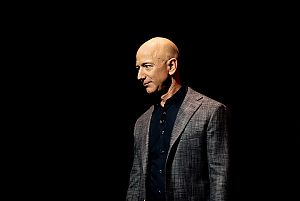 In future Blue Origin, the space company of Amazon founder Jeff Bezos will launch its missions with space technology from the Waldviertel! The company TEST-FUCHS from Groß Siegharts in the district of Waidhofen now supplies not only aircraft manufacturers such as Boeing or Airbus, but also the space company of the American billionaire.
Waldviertel space technology since 1980
TEST-FUCHS has been supporting space research with test systems, propulsion systems and cryogenic valves since the 1980s. Now Bezos is also relying on expertise from Austria.
At the end of 2021, Blue Origin contracted TEST-FUCHS to supply a fleet of hydraulic ground power units to support the construction, integration testing and recovery of vehicles in support of Blue Origin missions.
TEST-FUCHS' hydraulic power units are commercially available and market-leading in civil aircraft production. In addition, these power packs are used by the two largest airlines in the United States for on-board testing and are strategically located at all major airports domestically and internationally. The hydraulic power packs ordered by Blue Origin are based on a commercial design and utilise existing configuration options to meet the very specific requirements of the space mission. This ensures a compliant but economical solution with a proven tradition.
Austrian spaceflight success in the USA
The hydraulic power units are scheduled to be manufactured and delivered to Blue Origin by the end of 2022. This new supply relationship with Blue Origin is very important for TEST-FUCHS and is another success closely linked to the opening of TEST-FUCHS' US operations in Brecksville, Ohio, in 2017.