Aerospace supplier FACC supplies parts for Ariane 6 launcher
The Innviertel-based aerospace specialist FACC has entered the space business and supplies parts for the Ariane 6 launcher to ArianeGroup.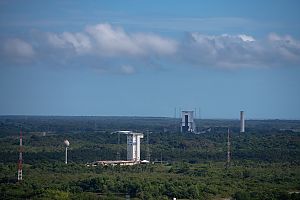 The first delivery is scheduled to arrive in Bremen in October 2022, developed at the Technology Centre in St. Martin and manufactured at Plant 4 in Reichersberg (both in the Ried district). It is the Astris kick-stage main structure, which is a lightweight carbon solution for the load-bearing structure of the Ariane kick-stage.
FACC is thus also applying its lightweight construction technologies to space travel, the company reported in a press release on Friday. The order volume for the small series of 20 units is in the low double-digit million euro range. The goal of FACC's 2030 strategy is to become active in the space sector, and the company did not expect this to happen so quickly, it said. The order opens up completely new opportunities for the company in commercial space travel.
"Our goal is to provide a carbon solution for the load-bearing structure of the Ariane 6 kick-stage, based on our lightweight construction expertise and our state-of-the-art manufacturing facilities, which will reduce weight and enable use for commercial space transport through efficient series production," said CEO Robert Machtlinger. The fact that FACC's long-standing customer Airbus holds a 50 percent stake in ArianeGroup certainly helped, he added.
The kick-stage main structure is the load-bearing structure of an additional optional stage of Ariane 6 and is intended to expand its mission capabilities. The component carries four fuel tanks in addition to the actual cargo. In Bremen, the kick-stage is undergoing further tests. In its possible first mission, the "Hera" mission, two comets passing by Earth will be used to test the extent to which an asteroid can be deflected from its trajectory.