ESA technology transfer competition – 3 x 5,000 EUR for your ideas!
On behalf of the European Space Agency ESA, Brimatech Services GmbH is organizing a technology transfer competition to generate new ideas for successfully applying Space Technology on Earth. We are looking for your bold idea for new and revolutionary innovation using Space Technology.
Organizer
Brimatech Services GmbH on behalf of the European Space Agency ESA
Content Description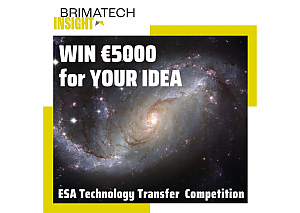 Memory foam, freeze-dried-food, cordless-vacuums and of course space blankets are all spin-off technologies from space. The range of those technologies finding applications on Earth is far longer, but now - IT IS TIME FOR SOMETHING NEW!
We are looking for Space Technologies with a strong focus on hard- and software, such as materials, energy supply, propulsion, etc. Positioning and navigation, earth observation and satellite communication applications are not the focus of this competition.
Program
Participation is very easy - tell us your idea and include the following:
Title
Description of the Space Technology or reference to the ESA IP (List of ESA IPs)
For which purpose do you want to use the Space Technology on Earth?

Describe the application area on Earth – What is the current state-of-the-art and resulting challenges?
What is the innovation, how do you want to apply the space technical solution?
What is the market on Earth – who is the customer?
What is the benefit of the application on Earth?
Target Audience
The competition is open to private persons, school classes and all organization types.
Participant Information
Submit your idea until 4.12.2022 and win 5,000 EUR!
Contact Address