AustrianStartups Stammtisch #98: All about SpaceTech!
An inspiring panel about business opportunities found in orbit, how startups can dive into the world of space technology and what it needs for Europe to become a leading player in this field.
Organizer
AustrianStartups
This event is made possible by the Federal Ministry for Climate Action, Environment, Energy, Mobility, Innovation and Technology who supports all Austrian space activities, in particular with ESA programmes, the business incubation centre (BIC) and the National Space Programme.
Content Description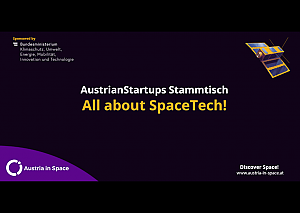 Not only US tech billionaires like Elon Musk and Jeff Bezos are shooting for the stars.
European entrepreneurs are using space data to create real impact on earth, build business models in orbit and contribute to the never ending quest for finding life in space.
Program
18:30 Open Doors
19:00 Panel Discussion moderated by Daniel Cronin
20:00 Free Drinks & Networking
Panelists
Daniel Metzler, Founder Isar Aerospace
Christian Adelsberger, Founder Ubiq
Sebastian Vogler, Founder Beetle for Tech
Participant Information
Important Note
If the guidelines for events do not change in the meanwhile, this Stammtisch is limited to 150 people, so please only get a ticket on Eventbrite if you are planning to come.
Your ticket will guarantee entry until 19:00, after that we will let attendees in on a "first come - first served" basis.
This is a 3G event, so please be prepared to either be vaccinated, PCR tested or recovered from Covid19.
Contact Address
AustrianStartups e.V.
Lindengasse 56
1070 Vienna