In memory of the Sentinel-6 namesake: Who was Michael Freilich?
Many people cheered live when the Sentinel-6 mission started on November 21, 2020. But Austrian space fans often asked: Why is the satellite actually called Michael Freilich? Exactly the right time to introduce the person behind the name.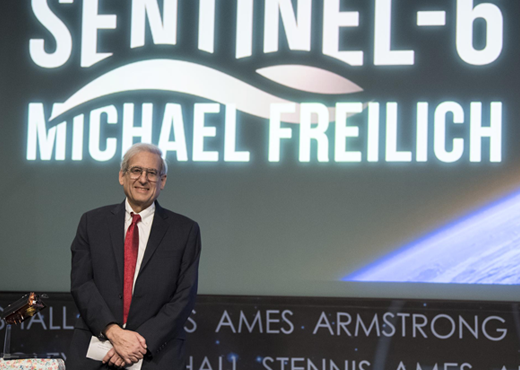 On November 21, 2020, the newest satellite in the Copernicus fleet, Sentinel-6 Michael Freilich, was launched on board a SpaceX Falcon9 rocket towards Earth orbit. The satellite, which will measure the oceans, is a perfect example of transatlantic cooperation. More than six international partners were involved in the development of the spacecraft, including NASA and ESA. Stakeholders from Austria also contributed important technology for the satellite. One person was a driving force behind this project: Michael Freilich. But who was he?
Michael Freilich was an American oceanographer who served as director of NASA's Earth Science Division from 2006-2019. He played a key role in the design and research for Earth System Sciences and was a great promoter of international cooperation.
"Earth system science is bigger than any particular agency, bigger than any single nation, bigger than any single continent. And I surely hope, because humanity requires it, that we make some significant progress in understanding it."
Freilich was instrumental in promoting the international partnership that ultimately led to the joint Sentinel-6 project.
Due to declining health, Dr. Freilich had to leave the project at the end of 2019. In January 2020, NASA, in coordination with its international cooperation partners, announced that the mission would be christened "Michael Freilich" in honor of the oceanographer.
Unfortunately, the namesake did not live to see the launch itself.
Freilich died in August 2020 as a result of cancer.
The launch of Sentinel-6 is a reminder of his unprecedented drive for international cooperation and his promotion of climate protection with the help of space technology.