How the Austromir experiments still benefit us today
The scientific experiments carried out by Franz Viehböck during the first space flight by an Austrian in 1991 as part of the "Austromir" mission on the Russian Mir space station still have benefits today.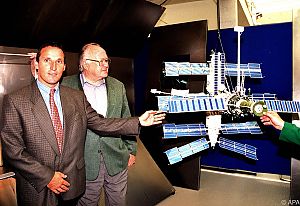 The scientific experiments carried out by Franz Viehböck during the first space flight by an Austrian in 1991 as part of the "Austromir" mission on the Russian Mir space station "gave a powerful boost to space research here to this day," said Christian Klösch, curator of the "Austromir" special exhibition at the Vienna Technical Museum, in an interview with APA. At that time, access to the front row of space research was available "at a bargain price.
"It was a historic opportunity that the Soviets offered the Austrians and a stroke of luck that they accepted the invitation," Klösch said. Viehböck's flight, including his training and that of substitute Clemens Lothaler, cost 85 million shillings at the time, which, adjusted for inflation, is equivalent to 10.6 million euros today, he calculated: "The stay of space tourists, who don't do much more than look out of the window for a week, costs around 43 million euros today." The "Austromir" projects, on the other hand, would still benefit medical and scientific-technical research in Austria 30 years later.
From ergometers to ion emitters
In the "Dosimir" project, for example, a team led by Norbert Vana of the Atomic Institute of Austrian Universities has developed measurements of cosmic and solar radiation using so-called "dosimeters". These can also be used to estimate the biological harmful effects of radiation on the human organism, says Klösch: "The researchers have thus developed a know-how so that today they are still world leaders in the field." Austrian dosimeters would therefore currently be in use on the International Space Station (ISS), and would also be used on future moon missions.
Viehböck also brought an ergometer called "Motomir" to the Russian space station, which could additionally be used to measure muscle loss. "It was not only a training device, but also a diagnostic device," the expert said. It was used by cosmonauts until Mir was finally abandoned and brought down in a controlled manner in 2001. "The project team led by Norbert Bachl of the University of Vienna's Sports Institute used it to develop a training device for convalescent patients in rehabilitation clinics on Earth," he explained. People who have been bedridden for a long time and, like space visitors, have suffered muscle atrophy can use it to build up muscle mass again.
For the "Logion" project, ion beams were brought into space for the first time at that time, Klösch reported: "This was used to investigate how the beams behave in weightlessness." Today, these ion beams are used as thrusters because they generate a steady recoil that satellites can use to navigate into the right orbit. "Using the technology developed then and refined to this day, a spinoff called Enpulsion has developed at the Wiener Neustadt University of Applied Sciences that makes ion thrusters for satellites," he said. They are important for their minituarization. The most common "chemical thrusters" currently in use would be comparatively large and would also need larger tanks. This leaves quite little space and weight for other components, and also limits the life of the satellites because of the very limited tank capacity. "With ion thrusters, you can reduce the size of tanks and thrusters, have more weight available for payloads and can increase service life," Klösch said.
The AUSTROMIR Experiments
(the information about the institution responsible in each case refers to the organizational structure in force in 1991, note):
"Audimir" - How accurately space travelers can localize sound sources in zero gravity and how spatial hearing interacts with the human vestibular system was studied in this experiment (AKG Company).
"Bodyfluids" - A device for generating negative pressure on the legs helped analyze the shift of body fluid out of and into the blood under microgravity conditions, as well as the causes of this shift (Physiological Institute University of Graz).
"Cogimir" - Various tests, such as reaction time or spatial reasoning, were used to study changes in brain performance due to mental and physical stress during spaceflight (Neurological University Hospital Innsbruck).
"Datamir" - The central on-board computer for handling the experiments in space and recording the data obtained in the process - with a hard disk memory of 20 megabytes and a working memory of 640 kilobytes (Institute for Applied Systems Engineering of the Joanneum Research Society).
"Dosimir" - Tested a dosimeter material capable of measuring both particle radiation and electromagnetic ionizing radiation to which humans and materials are exposed in space (Austrian Atomic Institute, Vienna).
"Fem" - Images of Austrian territory taken from a special camera and by remote sensing sensors on the space station provided clues for interpreting satellite images with simultaneous aircraft images and ground surveys (Institute of Photogrammetry and Remote Sensing TU Vienna).
"Logion" - With the goal of compensating for the electrical charging of satellites by cosmic radiation, the functionality and operating characteristics of liquid metal field ion emitters were tested under zero gravity (Austrian Research Center Seibersdorf/Institute for Space Research of the Academy of Sciences).
"Migmas/A" - A scanning ion microscope was used to chemically study various materials on the space station and to analyze the effects of space corrosion on these materials (Institute of Communications Engineering and Wave Propagation TU Graz/Austrian Research Center Seibersdorf).
"Mikrovib" - Here, spontaneous micro-vibrations of the muscles, i.e. the involuntary trembling of the body, were tested at rest and under load with different durations and intensities in space (Physiological Institute University of Graz).
"Mirgen" - Through blood tests before and after Viehböck's space flight, the effect of the increased cosmic radiation on immune cells and the genetic material (DNA) of humans was investigated (Austrian Research Center Seibersdorf).
"Monimir" - To study the effect of weightlessness on postural and positional reflexes, Viehböck had to perform head and arm movements according to a predetermined scheme, which were recorded and analyzed on Earth (Neurological University Hospital Innsbruck).
"Motomir" - A special ergometer provided new insights into the functioning of arm and leg muscles and their atrophy in weightlessness. It was also used to train cosmonauts (Institute of Sports Science, University of Vienna).
"Optovert" - A special mask exposed cosmonauts to optical stimuli (optokinetic stimulation) to gain insights into the origin of space sickness (Vienna University Neurological Clinic).
"Pulstrans" - A jacket equipped with biosensors was used to study how blood pressure and circulation regulation, as well as blood flow, adapt to conditions in space (Physiological Institute University of Graz).
"Videomir" - A novel system enabled live video conferences between Austria, Russia and the Mir space station. The highlight was a conversation between the then Federal President Kurt Waldheim and Franz Viehböck, which was also broadcast live on television.
In addition, there were two extra projects:
"Aremir" was an amateur radio experiment. The cosmonauts could be heard at 300 schools in Austria, for example.
"Artsat" was an action of the artist Richard Kriesche with messages between earth and space station as well as a symbolic handout.
Originally, the experiments "Brillomir" (to investigate the processes of segregation of special liquids) and "Alois" (the "Austrian Low Oribiting Inospehric Satelitte" was supposed to be the first Austrian satellite to be launched from the Mir space station), were also selected. However, they could not be realized in time.