About austrian satellite PEGASUS
The Earth observation satellite PEGASUS celebrates its 4th birthday in June 2021.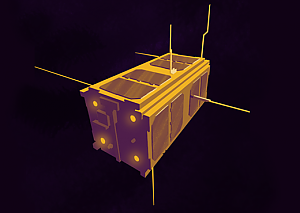 PEGASUS is part of the QB50 satellite project and was launched into orbit from India in 2017. One of the main goals of the QB50 project was to give students around the world the opportunity to develop and operate a satellite. The result of this project in Austria was PEGASUS, which was developed by students from the University of Applied Sciences Wiener Neustadt, the Vienna University of Technology and the University of Vienna in collaboration with the Austrian Space Forum. The satellite is still in use and continues to transmit data.
Project: QB50, a network of 36 nanosatellites built by university teams around the world.
Funding: EU Framework Program European Horizon 2020, Austrian Space Program (ASAP) (pulsed plasma engine).